Sabiha Zaman (pictured above) was the first woman from her village to pass the matriculation exam.
It wasn't much later that she joined WWF Pakistan as their first female field activist from Khyber Pakhtunkhwa.
A resident of Mulacch, one of the villages surrounding the Ayubia National Park, Sabiha joined WWF Pakistan two decades ago as a young woman who had to defy a lot of resistance, not just from the community, but also from her family.
"Women who leave their homes to study or work are often frowned upon in this part of the world, but I didn't let that stop me," says Sabiha.
"I had a hard time convincing my father and brother to allow me to go out everyday for work," she shares.
For Sabiha, this job is not about earning money. She took up the job as a volunteer, the sole purpose being protection of the forests and wildlife surrounding the village where she grew up.
Her enthusiasm for the environment becomes evident as she starts talking about the beauty and wealth of the forests that make this valley one of the most popular tourist spots in Pakistan. She animatedly describes the rare trees and medicinal shrubs that grow here, many of them with anti cancerous properties.
While the coniferous pine trees within the surroundings are a breathtaking sight on their own, they also provide refuge to 203 species of birds and endangered animals that are native to this part of Pakistan, including the black bear, and the musk deer.
Also read: Illegal hunting – leopards now threatened species
Her voice quivers as she points out the destruction of the land around her. A large part of the invaluable forest has now been wiped out to serve as firewood and fuel for the growing population. While the beauty of the surroundings has been affected, this has also led to climate change.
Disappearing forests
As per WWF, Pakistan has the highest rate of deforestation in Asia, and only 2.5% of its land is under forest cover.
"Creating awareness about the perils of deforestation isn't easy; most people don't see it as a threat here. Changing habits and practices that have been there for decades isn't something that can be achieved in a day."
Speaking about the effects of deforestation on women, Sabiha discusses how women in the adjoining villages have to now cover greater distances on foot to fetch clean water for drinking.
According to former Federal Minister for Climate Change, Mushahidullah Khan, "Walking long distances to fetch water can expose women to different health issues…This is the time that could be spent in school, earning an income or participating in public/economic life."
In Ayubia National Park and its surroundings, many of these women wander off to denser parts of the forest in search of water; parts that are home to wild animals such as the common leopard. Habitat degradation has led to a number of local women and children becoming victims of leopard attacks.
Attacks by wild animals like the common leopard have also increased in certain parts of the forests, as they are driven out of their natural habitat due to the decreasing vegetation cover.
Climate change is also rearing its head in the form of characteristic weather changes throughout Pakistan, which has led to the disturbance of crop patterns.
Crop cycles have been disturbed in villages around Ayubia National Park too. Many farmers have been forced to leave their ancestral homes and move to adjoining cities.
In 2017, Pakistan was ranked seventh in the ten countries most affected by climate change, according to the Global Climate Risk Index 2017. Another report, published in 2013, highlighted that an increase of 1 degree Celsius in mean temperature may reduce wheat yield by 5 to 7 percent in the country.
Also read: 'Climate change is a bigger threat to Pakistan than terrorism'
Protected, but not for long
Spread over 3,312 hectares in the Galliat region of Khyber Pakhtunkhwa, Ayubia National Park was declared as a protected area by the government in 1984 to conserve its temperate forests and wildlife.
However, despite restrictions by the KP government, deforestation practices have continued in the area, mainly because of the demand for timber and fuel wood from major cities in the surroundings.
"Rainfall and snowfall patterns have changed in Ayubia due to increasing population, deforestation and pollution during the past few decades," says Muhammad Waseem, forest conservationist heading the integrated watershed management project in Ayubia National Park, a joint collaboration of WWF Pakistan and Coca-Cola to rehabilitate the watershed and protect the indigenous trees in the area.
Waseem has been working on the watershed management project in Ayubia since 2008 with Sabiha and a number of local teachers, farmers and religious clerics.
They have mobilised individuals like Sabiha to take up these leadership roles; the idea is to reach out to the local community with a local voice and create awareness about the threats of deforestation.
"The forest has been providing livelihood to the people who live in these villages for years. You can't stop them from completely relying on it, but encourage and provide alternate solutions."
Based on these efforts, the local population has become more involved in rehabilitating the watershed and improving irrigation practices, and are slowly but steadily contributing to the conservation of water and natural resources by switching to eco-friendly alternatives.
The role of women in these efforts has been exemplary, to the say the least.
Setting Examples
Many local women have followed in Sabiha's footsteps, getting out of homes and playing an active part in conserving the ecological beauty of the Ayubia National Park. Some have started their own farm nurseries, where they grow not just firewood, but also fruits and vegetables that are being used to generate revenue.
Under assistance from WWF Pakistan, Sabiha is also training local women to identify endangered species of plants and trees that should be preserved and not cut down. To serve as an alternative, faster growing species of pine have been planted for the purpose of consumption as fuel, so that the valuable forest cover in the park remains protected.
In the last 5 years, more than 140,000 trees, including 15,000+ fruit trees have been planted in Ayubia National Park to reduce land sliding and soil erosion.
So far, the forest cover has been improved by 4.62% in the park, according to a local vegetation survey report.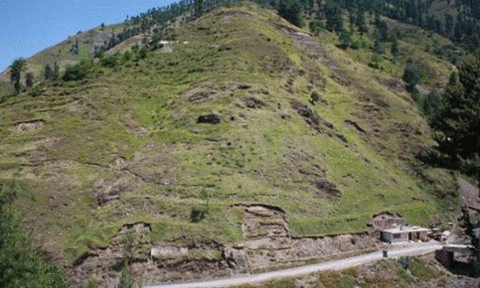 A one-woman-journey to be proud of
At 50, Sabiha definitely has a lot on her hands, but she is getting more women from the villages to join her.
Each morning, she travels on foot for at least an hour to get to the WWF regional headquarters in Nathiagali, where she has a small office and a nursery in the backyard. She teaches a number of women everyday on raising farm nurseries with medicinal plants as well as fruits, herbs and vegetables.
Since 2008, eight women farmers have been trained to raise forest nurseries in the park, out of which four have now been engaged by the Khyber Pakhtunkhwa Forest Department
Later, she goes out for awareness drives in different villages, and spends some time at vocational centres where women of the community are learning stitching and crafts.
These vocational centres have been set up by WWF Pakistan and Coca-Cola, in the villages of Mohra, Lundimandri and Arifabad.
So far, almost 200 women have been trained at these centres in stitching and crafts.
The teachers and trainers running these facilities are all women from the area.
Sabiha has played a pivotal role in convincing local families to allow women to attending these facilities on a daily basis, and many women have now started coming from adjoining villages.
Within a few months, 17 of these women have manged to increase their household income by selling their craft, and many have also exhibited their work in nearby towns and cities.
"Apart from teaching at the vocational centre in my village, I have recently completed my graduate degree, something not common among the women here," says Neelum, who received training in one of these vocational centres, and now teaches a group of 20 women in Arifabad.
Neelum is just one of the examples, Sabiha says there are more to follow if the community builds itself and grows with a progressive mindset.
While she is hopeful for the future, she thinks that women in Ayubia and its surroundings still have a long way to go in terms of empowerment.
"I believe women in my area can do more than just fetch water from far away streams. Women should be free to support themselves, earn for themselves, contribute to the community and do everything else that a man can do," she concluded.
Reporter. In Ayubia National Park: A story of women, leopards, and climate change. Dawn, July 25, 2017.